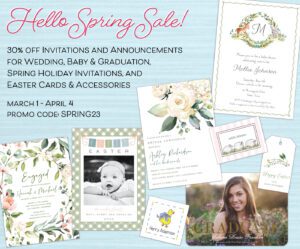 30% off Invitations & Announcements for Wedding, Baby, Graduation, Spring Holiday Invitations, AND Easter Cards & Accessories! SHOP NOW & SAVE on your entire order. Use Code: SPRING23 ~Sale ENDS April 4 We believe in helping those in need and because of this we are donating 10% of ALL Profits to help support Global Missions…
Sign Up for Blog Updates!
Join my email list to receive updates and information.